So I have a funny story about a Professor.
He taught Calc 1 and Calc 2.  He's Asian (like many Math prof, but they're the best teachers!) and has a strong accent.  I had him two semesters so I got pretty used to his accent.  But because he had an accent, he also mixed up his wording sometimes.  They were the funniest things!! 
A friend of mine from class, Kristen, and I would hang out in the Underground Cafe (a little cafe at school that was literally underground, kind of) talking about his funny sayings. 
Of course I wrote several of them down.  Of course I'm going to share them with you!!  ;)

"Cheeseburger and a Jumbo Jet Machine" 

That's right a cheeseburger

AND

specifically a

JUMBO JET MACHINE



"Tell your grandma"

She might want to know what you're learning in Calculus
"No tricks, no jokes, just pure math"

For realzz

"You find a skeleton of a dinosaur. In it's stomach you find Calculus book."

He was talking about how long Math has been around.

"Electric bracelet and I use my Mac to zap you"

When we fall asleep

"Guessing numbers with Grandma"

A fun game for all!!

"I just want to train you to be a good spy."

See kids Math is actually helpful later on in life!
"Sometimes, some cookies are too big to chew"

True fact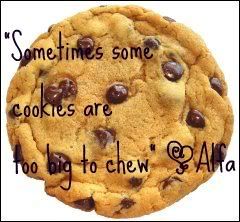 "Substract"

Not Subtract

"Sweeeeeet"

Pronounced "Sw

e

eeeee

t"

"I do not want answer from heaven"

Those lovely answers that just come to you, but you can't quite solve because God helped you out.

"Give this guy a Thanksgiving gift for helping you"

I'm not sure...

"Even though you love math, don't tell your partner you love math so much"

They might get jealous

"Later you're going to need to build a bridge from Newport to Boston"

Again, I'm not sure

"Dr. Jekell and Mrs. Hyde"

...

"Gramma put GPS on you"

For realzz?? 

"Ohhh Maxima. Free"

HAHAHA! So Maxima is this free math program we had to download and he was just reflecting on that fact, lol

"From polar to rectangular with love"

He actually wrote this one on the board

"The Wall-E signal"

He was talking about satellites and decided it was a signal for Wall-E
So this class was soo great.  Calc 2 was a lot harder so naturally I paid more attention to the funnier stuff.  He
really
said these things in class.  I think he was just trying to make class more interesting.  He was a great professor!